This year's stamp booklet presents
contemporary art in Åland
9 June sees Åland Post's issue of the 2022 stamp booklet Åland
Contemporary presenting art by seven present-day Åland artists.
To find the best selection of artwork, Åland Post was assisted by
Susanne Procopé-Ilmonen of the Åland Art Museum and Leila
Cromwell-Morgan Lönnroth of Gallery Skarpans. "I find it very
positive that Åland Post has invested in this theme right now.
Åland has a thriving art life with surprisingly many artists
in a small population," Leila Cromwell-Morgan Lönnroth says.
The term contemporary is used for all present-day or modern art,
and the group decided to include only works from the last 20 years
in the selection. "To me, it was important to highlight the breadth of
today's Åland art life, of course, also in terms of gender and age.
And to produce an appealing booklet in which the works function
individually and as a whole. I've learned that not all works are
suitable for the small format," Leila Cromwell-Morgan Lönnroth
says.
Susanne Procopé-Ilmonen adds: "It was also important to present
different techniques such as sculpture, photography, painting,
graphics, and textile art. It was rewarding to be part of the working
group, and we had interesting discussions about what is currently
happening in the Åland art scene and how we could convey this in
our selection. We have an interesting art scene of younger and older
artists with varying expressions. Nature motifs are popular, but they
also depict sensitive and controversial topics, and Åland art thereby
participates in the contemporary debate."
Seven different stamps are included the booklet Åland Contemporary.
The works of art included are from above:
Tiina Tahvanainen: Åland originals, Borghill Lindholm, photo, 2007
Gunnar Sjöblom: Japanese lantern, photopolymer engraving, 2008
Kurt Simons: Augur I, geometric abstraction, acrylic on canvas, 2010
Minna Öberg: #sniffingaround3, oil on panel, 2019
Barbro Eriksson: Sacrificial cardigan, concept art, mixed media, embroidery & crochet, 2021
Erica Signell: All over the place, oil & acrylic, 2018
Johan Karlsson: Rooster, sculpture, scrap metal, 2019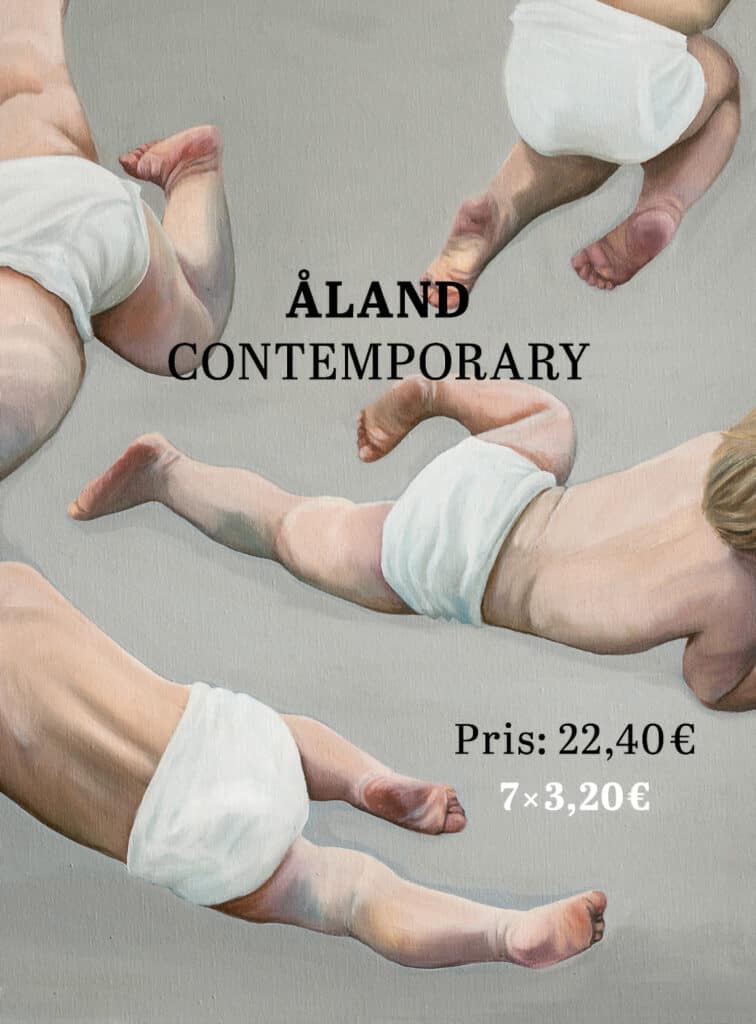 Facts about the issue
Name of issue Åland contemporary
Date of issue 9 June 2022
Artists Barbro Eriksson, Johan Karlsson, Erica Signell,
Kurt Simons, Gunnar Sjöblom, Tiina Tahvanainen & Minna Öberg
Design Johanna Finne
Photo & repro Kjell Söderlund
Edition 25 000 booklets
Denomination 7×€3.20
Price FDC €23.40
Stamp sizes 31×28,5 mm, 31×40,5 mm, 62×41 mm
Size folded booklet 62×84 mm
Paper 110 g/m²
Perforation 13 per 2 cm
Process 5-colour offset
Printer Cartor Security Printing
Images provided by Åland Post